Hey everyone! Something I've been thinking about and talking about a lot recently is the variety of ways people can support small streamers. There are loads of them but I wasn't able to find a good list anywhere, so decided to compile my own. If you've got any others to add to the list, leave a comment below and I will update the post 🙂
Obviously, in this post, I've linked to all my own channels etc, but you can support other people using the same methods.
Free Support
There are loads of ways you can support the content creators you love for free. Some of them may be more or less relevant to different creators, and really the easiest way to figure out what helps the most is by asking. The creator will (most likely) be really grateful and only too happy to help you help them.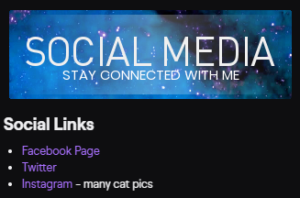 Follow them in all the places they are active. Most creators will have their primary channels (for me it's my Twitch channel) and some peripheral ones where they will share information, keep folks updated with their plans, and generally make it as easy as possible to keep up with them.
It is likely that if you do this you'll see the same information multiple times. Personally I find this quite helpful because I am forgetful but if you really hate this idea then pick 1 of the creator's secondary channels to follow them on alongside the main one, and you'll limit the amount of repeated content you're exposed to.
You should be able to find links on the creator's primary channel to all their others. My Twitch channel has links to my website, my Twitter, my Facebook page, my Instagram, my YouTube channel, and my Discord. Not everyone will use as many channels as me; for instance, most streamers probably don't have a personal website, but most will have a few of these.
The reason this helps is really a numbers game in two ways. The first is simply that most of the algorithms that allow content to get seen take into account how many followers/likes etc. a page/account/whatever already has. This is especially true for platforms that prioritise "popular" content, for example, Facebook's news feed. The second part of this is the psychological effect of "social proof" – basically people assume popular content is good, and are more likely to check something out if it has 1000 likes than if it has 50.
Engaging with their content is really helpful. For a Twitch streamer such as myself, I really value and appreciate the people who come along and chat in my channel while I am streaming. It's one of the things I enjoy the most about Twitch. Just as valuable are the people who come along and lurk, enjoying the content without chatting. It's well known that good audio is more important than good video, and it's because a lot of people treat Twitch streams and YouTube videos a bit like podcasts and have them on in the background while they do their thing.
If you're too busy to watch the stream or listen to it in the background, you can actually still help out a ton by loading up the stream and muting the browser tab or turning your speakers off. You can do this on your phone too, by opening the stream and muting your phone's media volume.
The reason it's important to mute this way, and not by muting in the Twitch player, is that Twitch doesn't count you as a viewer if you've muted the channel. Twitch is an extremely poor platform for discoverability, and everything is sorted by the category and then by the number of viewers. If you have enough viewers to be in the top two rows of streams in a category, you have a much higher chance of getting new viewers. It's a swings and roundabouts kinda deal.
If you're watching the stream and chatting, make newcomers feel welcome. One of the best things about streaming has been the little community I've started building, and I want it to be open to all comers, so making them feel welcome as soon as they join the chat is a huge deal. This is doubly important if the streamer is distracted or focusing and doesn't see the new person right away.
On YouTube, liking and watching videos is great, and commenting also helps. Once again, if you don't have time or the inclination to watch the videos actively, you can mute the tab or turn off your speakers and leave it playing in the background. YouTube, like Twitch, doesn't count you as a "viewer" if you mute the actual video.
One of the key "ranking factors" for YouTube videos is the watch time, so having people watch the video all the way through really helps with that.
On Twitch, having a lot of active chatters is one of the critical milestones that streamers need to achieve if they are looking to become a Twitch Partner, alongside concurrent viewers.
Amplify them and their content on social media. Liking and commenting on posts, and sharing them with your own networks is really helpful. It's especially helpful if you take the time to share with a comment of your own to tell your friends and followers why you enjoy the content and why they should check it out. Personal recommendations go a long way: much further than just sharing a post without any comment or additional context.
Your friends and followers trust you and what you have to say, so your suggestions carry a lot more weight than if they just saw the creator's content.
Most streamers share something on Twitter when they go live – retweeting with a note that you'll be there and having fun can go a long way.
Word of mouth can be an incredible source of loyal community members. If you have friends that you think would enjoy the content, messaging them directly and telling them is a great thing to do. It's one of the strongest recommendations – way better than sharing posts generally.
One of the side effects of this is the pressure of social psychology. When a friend/person whose opinions you respect and trust directly tells you that they think you'll like something, you're much more warmly inclined towards it.
---
Financial Support
There's no getting around it. For many creators to continue to make the content they are passionate about and that you love and want to support, those creators will need financial support. Personally I started creating content while I was unemployed and the financial support of my community has helped a lot. There will be other people in similar or even less stable situations than me.
Subscribing on Twitch is a great way to support streamers. Not only do you support them, but you'll also get something out of it too – emotes that can be used all across Twitch, and special badges next to your name in the channel! Some streamers might throw in additional perks too. Dedicated sub-only Discord channels are popular; I write Haikus for my subscribers.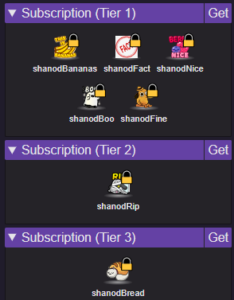 If you have Amazon Prime, you get free access to Prime Gaming (formerly known as Twitch Prime). This means you get a free subscription to a Twitch channel every month. This acts exactly like any other subscription and gives you the same perks as a "regular" tier 1 subscription. There are two main downsides: firstly, the subscriber has to remember to go and renew it every single month – they will not automatically renew; secondly, they take up to 45 days to process so there's a good chance the streamer will not receive anything for it in the month you subscribe – it will likely be the following month.
On Twitch you can subscribe at three different tiers, each of which cost more and provides the streamer with more income and the subscriber with additional emotes. The streamer gets 50% of the cost of the sub so the higher tier ones are a great way to support them more.
You can also provide gifted subscriptions on Twitch. This is a great way to both support the streamer and the community. A generous community is really appealing to people who are checking the channel out, and people are way more likely to become part of a community and watch a stream where they have received a gifted subscription.
Twitch also runs something called SUBtember which provides discounts on subscriptions and auto-renewal subs in September. I don't know a ton about it but the page linked has a lot of detail. I believe the discount applies to people who are subscribing for the first time or people who are converting from gifted subs to a paid sub.
Patreon is another very popular monthly support platform. It usually consists of several possible price tiers which will provide additional bonuses for Patrons.
Patreon is very popular for Twitch and YouTube creators particularly because the cut taken by the platform is much lower than on Twitch.
Twitch also has another way of supporting streamers: bits. Bits are used for cheering during streams. You can buy Bits directly from Twitch in a streamer's chat or from this page. In many streams, cheering will create an on-screen alert, possibly with a sound/gif. Some streams have special ones for certain amounts. Twitch's help centre guide on bits and cheering is really thorough so if you want to know more, check it out.
Bits are a great way of encouraging or rewarding a streamer as they go – did they just beat a hard boss or perform a dope combo? A little cheer can really make them feel great about their accomplishments – I know I do.
Cheering with bits is also really nice because the streamer gets the full value of what is cheered. With subscriptions, streamers only receive 50% – but you pay the cost for bits when you buy them. 100 bits equates to approximately $1 for the streamer and they get all of that.
Donations are a great way to directly support a streamer. If a streamer has a tip system set up you can contribute any amount you like, knowing that the streamer will receive all of your donation amount rather than Twitch taking a cut.
Money is a complicated subject for many people and so some streamers have public and private donation methods. I use the Stream Elements donation tool for donations that generate an alert on my stream, and ko-fi for ones which do not, to give people the option to remain anonymous.
Some streamers might be a little cagey about donations because of how chargebacks have impacted the streamer community. Donors can chargeback up to six months after sending a donation, and there is very little protection for the recipient – in fact, PayPal may charge the streamer a fee if they get a chargeback. Some streamers don't have public donations at all because they don't want to celebrate donations until the chargeback period has passed. So please don't get upset if you donate and a streamer doesn't celebrate immediately. You can read about chargebacks here on Forbes.
A lot of streamers & content creators will have wishlists available as a way for people who are more comfortable buying an item for someone than donating money (more common than you might think) to contribute. Much like donations it isn't quite as cut and dried as it might be though, and while I do use an Amazon wishlist I would prefer something more secure.
The great thing about wishlists, of course, is that you know for sure you're getting something useful and relevant that the creator wants. However, Amazon wishlists have some serious security flaws and can enable harassment – so if a streamer or creator you like doesn't have a wishlist, don't pressure them to set one up.
There are new services appearing, such as Stream Gifts, that build in privacy for the gifter and the recipient but Stream Gifts specifically is in a closed early access phase at the moment and there are additional costs incurred to keep the Stream Gifts system running. However, the privacy and security provided by such services are really valuable.
Tangentially related to wishlists are PO Boxes. These are falling out of fashion because they are prohibitively expensive for smaller creators, but can be a great way to spontaneously show support.
Please don't mail homemade food to anyone – it's a lovely idea of course but is inherently risky, especially for anyone with food allergies/intolerances.
Check on any affiliate links the creator has. Gaming streamers often have affiliate links for peripherals such as Razr and Corsair, or Humble Bundle (my affiliate link). Amazon widgets are also quite popular to show people's components and earn an Amazon affiliate amount. If you're going to be buying something anyway then doing so through an affiliate link is a very easy way to support the creator at little to no cost to you.
Most creators will only affiliate themselves with brands they know and trust, so it's a personal recommendation from them and you're likely to get good quality stuff.
Unfortunately, they are one of the lowest impact ways to support someone. Affiliate commissions are usually very low and just a small supplement for most people. They rarely have any risk associated with them for the creator so are usually worth setting up despite the small return.
Lastly, many creators will have ads on/around their content. The money they receive for ads is usually very low, however, if you can't afford to support a creator in any other way making sure you have turned your adblocker off for their content is a great way of doing so.
---
And there you have it! All the best ways to support streamers and content creators whether or not you can afford to spend money on their content or not. What do you think of the list – anything you think I've missed out? Let me know in the comments. And of course, please share this post far and wide to help others learn how they can support the creators they care about.