A friend recently gifted me the game Strange Horticulture. It's a puzzle game about plants with a story about the occult and naturally, as the local provider of strange botanicals, you find yourself becoming intertwined in the mysteries as they unfold.
The game is told over the course of 16 days plus an epilogue, and though you start out selling remedies for stomach aches, you and your cat Hellebore start to get some peculiar customers.
The core gameplay loop consists of someone asking you for a plant, and then using the information you have at your disposal to provide them with the correct plant. You start with an encyclopedia, The Strange Book of Plants, which includes some information about some plants, and a microscope with which to examine plants more closely. Your job is to use context clues to solve the puzzles, and in so doing you get more pages to add to your encyclopedia. You can also explore the local area to find more plants – you get clues about this too, letters telling you that there was a strange mushroom 3 miles west of a local village, business cards of people who might be willing to trade, and more.
Speaking of the local area, the game is set in a fictional town called Undermere, which is nestled on the side of a lake in Cumbria. Real towns mingle with made-up ritual sites and creates a strange sense of the familiarly different. Even if you're not at all acquainted with the Lake District, you'll experience the same sense of wonder and curiosity that the game is so expert in creating. Is there really an antique shop in Arnside (a real town I've been to) that will sell recipes to strange elixirs created with just the right plants to quell fear or prolong life? Perhaps not, but there's something so immersive about this beautiful hand-drawn 2D game that you'll find yourself wondering.
And really that's what this game manages, with its small selection of mechanics and mob of unusual, beautifully drawn and cleverly described plants; a real feeling of immersion. The audio lends itself to this too, with gently unsettling music and the familiar pattering of rain on the roof. Am I a north England shopkeeper, selling Eyebright to a man with dark business, only my cat Hellebore for company, or am I a goblin in Scotland with too much to do and not enough energy?
I really loved how the game built up over time. You didn't have all the plants or all the information to start with, you built them up by following leads, serving customers, and exploring. That means that although 77 plants seems like a lot to take in, the game is kind about it. You also don't really ever "lose" – if you try and provide the wrong plant you will build up dread, and if you hit a threshold your mind will break, but you have the option of putting it back together. The first time my mind broke, I solved the minigame to recover partially by eye and partially by brute force, and the game was happy for me to do so. I was back to trying to figure out what plant the customer wanted in just a few minutes.
I also thoroughly enjoyed being able to label and arrange my plants as needed. There were three colours of label so I colour coded and then alphabetised my plants. It was very pleasing.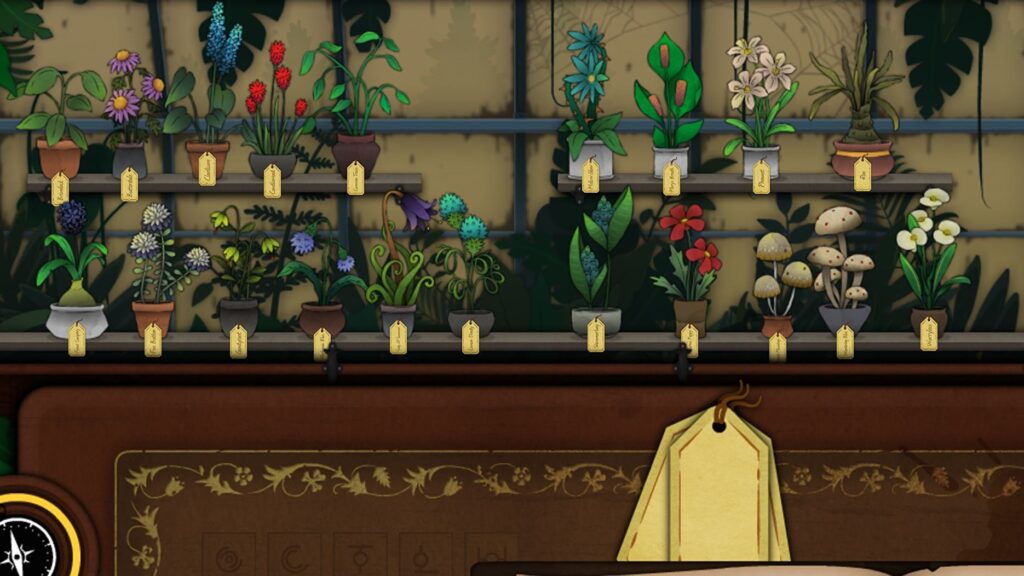 If you are a fan of puzzles, of the occult and esoteric mysteries, of games where your choices matter, or simply of small artistic experiences that do not outstay their welcome and have a cat you can pet, I highly recommend Strange Horticulture. I'm glad I was able to experience it.