Hey everyone. I've been meaning to have an easy to access list of my computer specs for people to check out as well as some photos of the day Ouroboros helped me build it.
Some of these links are Amazon Affiliate links! If you click through and buy any of the items, I'll get a little cut (assuming I've set it all up properly – frankly not guaranteed because I thought I'd done it right before but had set it up separately for each country's Amazon and I'd accidentally done .com rather than .co.uk, or at least I think that was the problem…).
Here's a quick reference list for you. Below you'll find some photos and some of my thoughts on them. Enjoy!
The Case
Fractal Design Define R6 – it's hard to get a photo that captures how sleek and nice this case looks. When I was researching and deciding on the components, I concluded that I wasn't going to go for a flashy RGB-heavy setup (RGB stands for red-green-blue and refers to lights that are commonly on computers and tech equipment targeted at gamers.) and as a result, getting a case with clear sides wasn't a high priority. Tempered glass sides are available for this case but since I don't have lights to show off, the extra weight isn't worth it. Computer towers are already heavy enough!
This case has really nice cable management options and is modular. Both sides and the top come off to make building, updating, and maintaining the rig easy. It's also extremely quiet. A couple of months on and I still really like this case and am pleased with the choice.
The Motherboard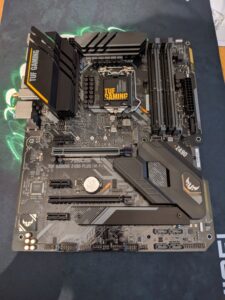 ASUS TUF Gaming Z490 Plus WiFi – to be honest, I don't know much about motherboards. I was just looking for one that was well regarded and met my requirements, which were:
intel chipset, ready for 10th gen processors
M.2 support (this has 2 M.2 slots)
good cooling support (scores really well on cooling)
plenty of USB ports (has 4 on the front and 6 on the back, one of which is a USB-C port)
So I don't have anything to say about the motherboard beyond "it does all the things I need it to!"
The Processor
Intel 10 Core i9 10900K Comet Lake – this probably seems excessive, but I needed the processor to be powerful enough for streaming high-end games (for example the ridiculous Skyrim mod pack with like 900 mods), since streaming a game is more intensive than just playing one. Also, editing videos is surprisingly intensive on the ol' cores. I also don't want to have to get a new processor for a good long time, and I am relatively sure this one has longevity.
I didn't take a photo of the processor. It's a processor. A small square thing that makes my computer do things. You know the deal.
The CPU Cooler
Noctua NH-D15 – Now, this I did take a photo of. Keeping your computer cool is SUPER important. The processor I got didn't come with a stock cooler and I thought that making sure I take care of the most expensive bit of computer was worth investing in. I also know that cooling is often the largest source of noise in a PC build (my old machine sounds like it's trying to use the fans to take off into flight), so I did a bit of research and invested more than I expected into a fan/heatsink that has really excellent cooling and is built for cooling. The company actually specialises in CPU cooling and are very highly rated.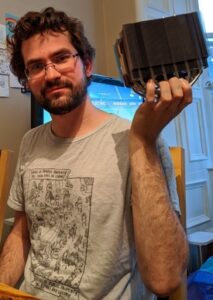 LOOK AT THE SIZE OF IT. It is as large as the head of my bestie, Ouroboros, who helped me with the build. I never imagined I'd be spending £75 on a fan when I was planning this build, but there you go. I gotta say, this computer, despite being my most powerful machine ever (I've never had a top-of-the-line machine before), it's also the quietest and coolest running, and I think this fan/heatsink combo is a huge part of why.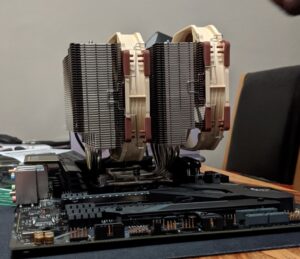 It came with some thermal paste, which we used rather than buying any separately – I trust them to know what they are doing with all things CPU cooling.
The Power Supply
Corsair RM650 – I don't know a lot about power supplies, other than what they do, in very vague terms (suck power out of the wall and shoot it into all the computer bits). I plugged all the components into a calculator tool and it told me I needed at least 450w to run the machine, which was good because I know having a good amount of headroom on your PSU is important, but 750w ones seem to be quite a lot more expensive than 650w. There also seems to be some kind of rating system (gold/silver/bronze) on PSUs, so my two criteria here were set – gold-rated (whatever the heck that even means) and 650w. This one had a lot of high reviews and Corsair are a well-known, trustworthy brand, so it became mine! No photos of this, it's just a black cuboid.
The RAM
Corsair Vengence DDR4 3200Mhz 16gb – Looking for good RAM is harder than you might imagine. If you search for RAM for gaming machines, you just get loads of results that have massive RGB segments or ridiculous heatsinks. So instead of investing any energy into RAM research, I just got the same one a friend got recently. Again, Corsair are a recognisable and highly rated brand and a word-of-mouth recommendation in the face of too much choice goes a long way.
I didn't take pictures of the RAM. It's black (as per the pattern forming) and looks like a stick of RAM. We were actually a bit worried about fitting the RAM after the CPU cooler because there wasn't much clearance, but luckily it slotted in fairly easily. I didn't buy any alcohol spirit thing to clean thermal paste, so there was no way to take off the cooler, add the RAM, then put the heatsink back, so it was a relief that it was easier than it looked.
I started with 16gb because really, that should be enough for most things, and RAM is the easiest thing to add in the future. If I ever found myself lacking in RAM I could just buy another of these 16gb pairs and double my RAM.
The Hard Drive
Western Digital Blue 2TB M.2 – I was extremely excited at how small this SSD was. It's SO DANG SMALL, friends. Smaller and lighter than a single stick of RAM. TWO (2) WHOLE TERABYTES. Suffice to say, I've been having storage issues for a hot minute. My last machine had 250gb which means I was constantly having to uninstall stuff/delete videos etc. and I hated it.
Seriously, my mind is blown. It's so small. 2TB should be enough to last me for a LONG time. I'm not precise enough of a person to comment on hard drive speeds, honestly, but I do know SSDs are faster than HDD and with this being less than £200 getting a HDD doesn't seem worth it for the saving. You could get a smaller SSD for your operating system and a HDD for storage, but honestly for me, reducing the amount of admin and brain space required on something I'm gonna use every singly day multiple times was worth it.
The Graphics Card
GeForce RTX 2070 Super – I kept the most exciting one til last! This card is beefy. I keep getting asked if I am sad that the 30xx series released like a month and a half after I did my build, but honestly I'm not. Given how difficult and stressful many people found getting hold of a 30xx card when they released, and the fact that it would have meant waiting an extra month, I'm satisfied with my choice.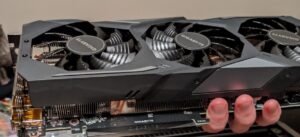 This card had the best balance of performance to price of the ones available at the time – the step down wasn't a huge saving anyway, and the next one up was about £500 more expensive, so this card is middle-of-the-road at the top end of things.  So far it has done everything I've asked of it quietly and prettily.
---
So, there you have it! In total it was under £1500, which I'm really pleased with given the high specs of the components. It should have enough life in it to see me through a good few years, and is more than capable of being my trusty steed for streaming, video editing, and of course, blog writing! What do you think of my component choices? Let me know in the comments.